Cycle one of the last undeveloped and untrammeled stretches of Asia, climbing over the ranges of the "Laotian Alps," through hilltribe villages in Vietnam and Laos, jungle, and the bucolic river valleys north of Luang Prabang
Trip Dates (2022)
January 4-14
March 22-31
May 5-15
High adventure, off the grid! Our overland biking tour from Hanoi all the way to sublime Luang Prabang is a glimpse of what many neighboring countries looked like years and even decades ago. Cuisine is always a focus and we'll eat away along the way and also enjoy some off-bike sightseeing, boating on Mekong River and spending a day trekking in remote Muang Ngoi. Ride with us now before it quickly changes, investment and projects are rolling into the country – thankfully, primarily in the capital city now. 
Day 10 — La Khon and farewell
Day 1

— Xin chao and welcome
Arrive historic Noi Bai Airport. The transfer into Hanoi is unforgettable passing emerald-green rice paddies and water buffalo before entering the tree lined boulevards of the cultural and political capital of Vietnam that has slumbered largely unchanged for decades. Our hotel is the legendary Metropole on central Hoan Kiem Lake where we'll meet for orientation, followed by a "jet lag treatment" at a local herbal spa with massage. In the evening, well enjoy a special reception at a leading artist's private compound on the Red River.
Vietnam visa required before arrival (arranged by VeloPura)
Day 2

— The Stoic Capital
Rise at dawn to witness traditional exercise rituals on Hoan Kiem Lake and explore the busy morning market in the nearby Old Quarter before breakfast. Afterwards, visit to the Soviet-era Ho Chi Minh Mausoleum where "Bac Ho" lies in state, followed by the Temple of Literature, Hanoi's premier university for hundreds of years.
Afterwards, lunch in the lake area, while enjoying a "survival Vietnamese" lesson with your guide. After, touring of the bustling Old Quarter by cyclo (pedicab) and foot, pausing to visit with local family in their "tube" home.
This afternoon, enjoying bia hoi, or happy hour, on the streets joining  Hanoians after work. Tonight, we'll dine at one of the capital's finest restaurants overlooking the lake. If you've still the energy, join us for karaoke, wildly popular in Vietnam. 
Day 3

— Hilltribes and Karst Mountains
Our destination today is the bucolic Mai Chau Valley, a picturesque river valley region populated with a diversity of hilltribes. Our biking route is throug picturesque, rolling hills spotting hilltribes in the area, including the White Thai, distantly related to tribes in Thailand, Laos and China.
After arrival, enjoy a dip in the pool before walking through the sprawling rice fields to a nearby hilltribe village where we'll enjoy a traditional dance performance and dinner. 
45 miles +3,114 feet
This morning we'll make a run for the border by van, along mountainous  through Pu Luong and Pu Ha Nature preserves and several developing border town. After crossing into Laos, we begin riding over the quiet rolling hills towards Vieng Xai, passing hilltribe and local Lao villages in the area, including Thai Dam, Thai Dang, Meuy, and Kmu. 
In the late afternoon, arrive in sleepy Vieng Xai, and after a quick freshening up, will explore a nearby network of caves used by the Pathet Lao rebels during the Vietnam War.
31 miles +2,234 feet
Day 5 — Across the Laotian Alps
After two warm up days, we're ready for our longest day in saddle, an epic day's century ride to Vieng Thong over the towering "Laotian Alps." The quiet and winding route passes a smattering of villages while climbing over two 5,000 foot passes. Our sag wagon is always nearby anytime you feel like a lift.
After arrival in Vien Thong, freshen up before walking to nearby hot springs to douse worn legs before dinner.

101 miles | +10,627 feet
Day 6 — More of the Laotian Alps
Vieng Thong to Nong Khiaw
Another long ride over the passes after breakfast and a visit to the local hilltribe market. Today we pass through the lush jungle and forests scenery of two national parks as we roll over three mountain passes. Our destination, Nong Khiaw, is a remote northern outpost on the bucolic Nam Ou River.
In Nong Khiaw, we'll enjoy delicious cold Lao brews with panoramic views of the river area. Now this is Laos! After dinner, a massage in town can be arranged.
115 miles | +9,159 feet
Day 7 — Jungle and Rivers
Our rest day begins with a cruise by longtail boat to sublime Muang Ngoi to hike into remote villages and cloud forest in the area. We'll trek to Tham Kang through stunning scenery, where, according to local legend, a sacred Naga resides. Also visiting in the villages of Ban Na and Thai Daeng before returning back to Nong Khiaw by boat in the afternoon for dinner and accommodation, and perhaps another leg massage before tomorrow's ride.
Day 8 — The Sublime River Valley
Nong Khiaw to Luang Prabang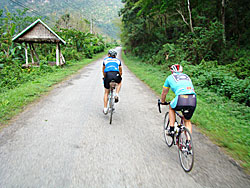 Our route this morning meanders along the scenic Nam Ou River, surrounded by emerald green fields of rice and small farms.
From our lunch spot, cruising by boat the remaining distance to Luang Prabang. In the late afternoon we arrive into Luang Prabang, a UNESCO World Heritage pleasantly located at the confluence of the Mekong and Nam Khan Rivers and encircled by distance jagged peaks. This evening we'll enjoy a private baci ceremony, a traditional lao welcoming ritual for centuries before dinner.
54 miles +1,205 feet
Day 9 — The Jewel of Southeast Asia
Rise at dawn to witness the languid alms procession of monks passing through town, then tour the small town, visiting the temples Luang Prabang in known for and meeting with monks. Also visiting other notable sites, including the colonial-era royal palace and museum. For lunch, we'll explore the central food market sampling street foods. At dusk, a short hike to the summit of Mount Phousi for panoramic sunset before wandering the sprawling night market. Tonight a special and unforgettable farewell dinner has been organized.
After breakfast and farewells with crew, transfer to airport for two-hour flight to Siem Reap, base for exploring the magnificent temples of Angkor. After arrival in Siem Reap and clearing immigration, transfer to hotel for lunch and orientation with guide.
Travel with your club, friends, or family. Customize this Baja trip to your specific preferences and style of travel—we'll work with you to make it the trip of a lifetime.